FINALISTS ANNOUNCED

Judges Name Business Awards Shortlist
---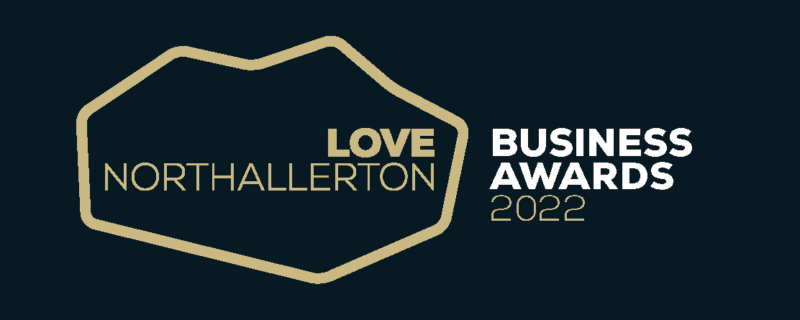 LOVE NORTHALLERTON BUSINESS AWARDS FINALISTS ANNOUNCED
Judges have completed the tough task of deciding finalists for the 2022 Love Northallerton Business Awards.
An independent panel reviewed dozens of nominations for town-centre businesses and were particularly impressed by their strength and quality.
This is the second time Northallerton Business Improvement District (BID) has hosted the awards and the winners will be announced at a gala black-tie awards dinner to be held at the Golden Lion Hotel on Saturday 30 April, compered by Elly Fiorentini, Communities Senior Journalist at BBC Radio York.
"We'd particularly like to thank all the businesses who have supported the Love Northallerton awards and also our independent judging panel," says Northallerton BID Manager Graham Bell.
"We had to stage our inaugural 2020 awards virtually because of lockdown restrictions so it will be good to honour this year's winners in the traditional way with our gala dinner on 30 April."
The finalists are:
Professional Service Business of the Year Sponsored by Barkers    
Alexander Optometrists
Nick & Gordon Carver Estate Agents
Colin Hutson Accounting
North Riding Financial Services
Small Business of the Year Sponsored by Colin Hutson Accounting
Dolcie Ice Cream Emporium
Earth Unwrapped
Maxwells of Northallerton
Large Business of the Year Sponsored by Hubspoke Marketing
Barkers
Card Factory
Royal Mail
Health, Hair & Beauty Business of the Year Sponsored by Mitchells Newsagents             
Francesca's Beauty and Aesthetics
Hair & Beauty Secrets
Scyzory
Sonny Playforth Hairdressing
Food & Drink Business of the Year Sponsored by Emmerson Marketing
1Twenty7
Nags Head
The Standard
Best Customer Service Sponsored by Herriot Country Tourism Group
Alexander Optometrists
Darlington Building Society
Hair & Beauty Secrets
The Works
Apprentice of the Year Sponsored by C4Di
Anya Hudson-Stockdale (Sonny Playforth Hairdressing)
Harvey Playforth (Sonny Playforth Hairdressing)
Kyra Dodsworth (Hair & Beauty Secrets)
Nicole Harker (Scyzory)
Employee of the Year Sponsored by Hambleton District Council                                 
Katy Anderson (Northallerton Glass)
Madison Kitchen (Alexander Optometrists)
Patricia Shore (Beau Cocoa)
Employer of the Year Sponsored by University of Sunderland
Colin Hutson Accounting
Place, Blair & Hatch
Scyzory
Businessperson of the Year Sponsored by Walker Foster Solicitors
Jacqui Fedyszyn (Scyzory)
Julie Hutson (Colin Hutson Accounting)
Sonny Playforth (Sonny Playforth Hairdressing)
Community Spirit Award Sponsored by Northallerton Town Council
Carmel Carrick
Les Lowther
Michelle Higgins
The Forum
Tickets for the event (£30 each for BID members and £40 each for non-BID members) are now on sale. You can also book a table for eight (cost £240 inc VAT) by contact BID Co-ordinator Helen Crannage: helen.crannage@lovenorthallerton.com